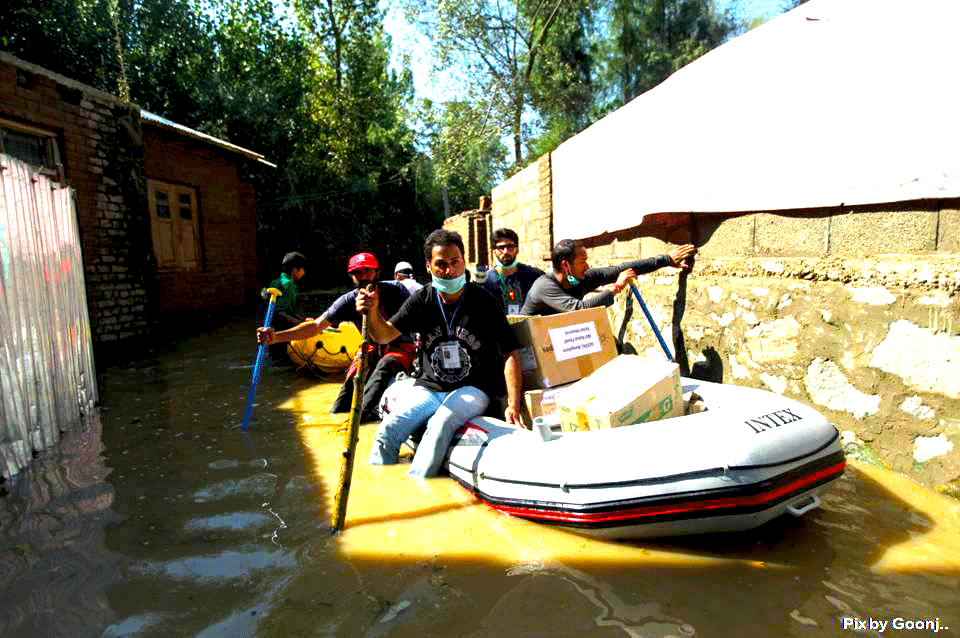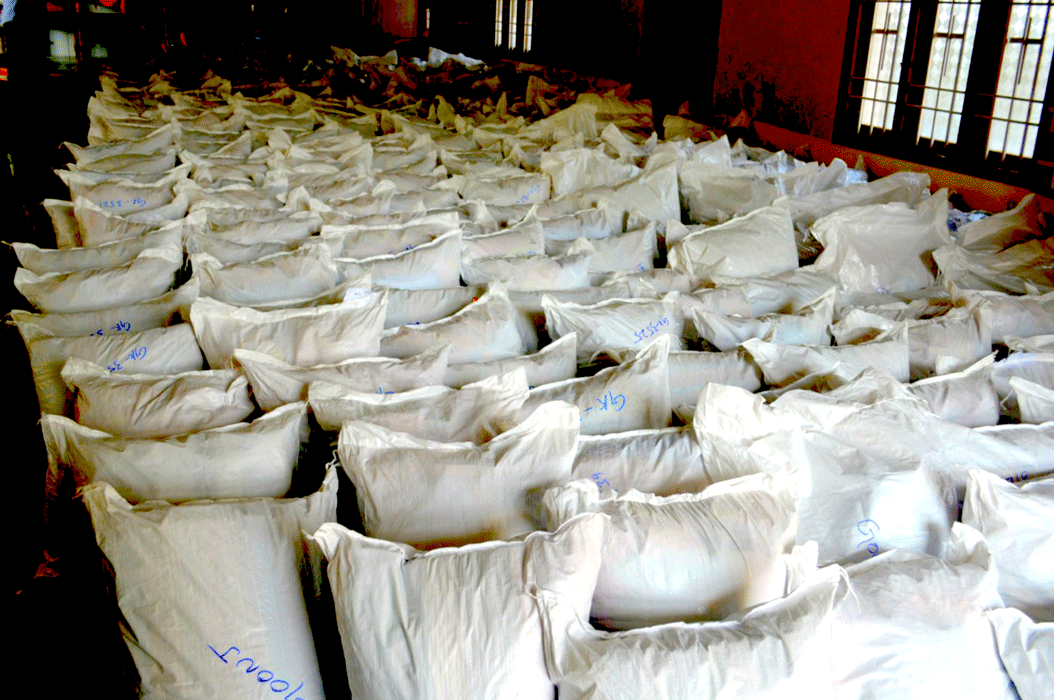 Goal
To built an active, reliable time-tested network of stakeholders in both rural & urban India ensuring our response time for generating & channelizing disaster relief & rehabilitation resources is fast & customised to changing needs.
Strategy
Through the year we educate common masses about sensitivities of giving in disasters, creating a culture of mindful giving.
Bring attention to preventable disasters like winter to reduce deaths and suffering in this season primarily due to non- availability of clothing.
Focus on rehabilitation activities.
Impact
Masses are sensitized about mindful giving towards dignity of receiver
In disaster zones, relief material acts as tool for involving people in rebuilding their lives & damaged infrastructure.
Rehabilitation tool kits provided to people who lose their livelihood in disaster. And thus reduce migration towards urban.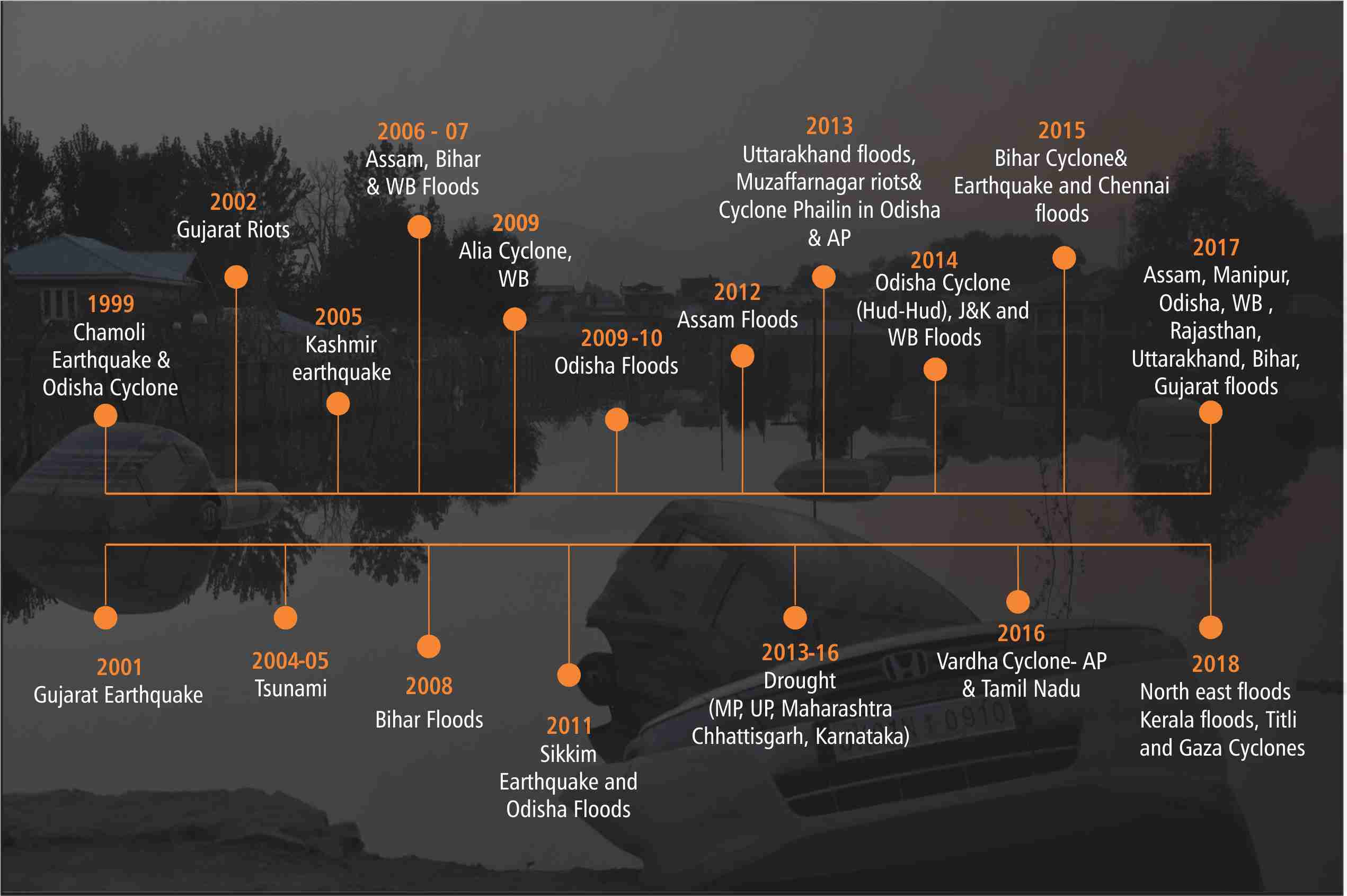 Recent disasters we've worked on
Every year, low-lying areas of India witness heavy spell of monsoon rains. This is followed by devastating floods and landslides. For thousands of people, this means a loss of shelter, land and livelihood. This year has been no different.
Cyclone Fani has passed but left behind a trail of devastation and distress in the life of millions!! With a commendable job of state government, NDRF and many other agencies, effective evacuation has certainly been able to minimize the life loss in a big way.
In the last 2 decades of Goonj's work.. we have seen thousands of people walk into homes where there is nothing left or fields, with all crop finished. All of us saw the intensity of the winds severely damaging even concrete buildings..It's impact on millions of kachcha houses- from essential belonging to livestock can be anyone's guess.
I have said it earlier as well that in some disasters unfortunately the impact is measured by the number of deaths and not by the distress of the living.
We are there to do our bit and need you too.. to make sure that people get the basic relief- from food, utensils, tarpaulins to school material, while struggling back to life. Then we stand with them for long term rehabilitation too.
Every penny, Every effort, Every Contribution Matters.. not only for urgent survival but also to save people from getting into huge debt traps when buy essentials !
Do write back to mail@goonj.org for any queries.
–Anshu Gupta (Founder, Goonj)
We certainly need you too.. more people, resources, material and money. 
Please refer to our Campaign for details.
Monetary Contributions-
Critical for logistics and essential purchases, click here- https://goonj.org/contribute/ (All monetary contributions are tax exempted u/s 80G) **OR drop a cheque/ draft in the name of GOONJ in any HDFC branch or send to GOONJ, J-93, Sarita Vihar, New Delhi-110076, Tel.- 011- 41401216/26972351. with your full name, address and tel no. for receipt purpose.
Material-
Food Items: Rice (Non-Basmati), Pulses, Mustard Oil, Poha, Sugar, Tea, Biscuits and Spices
Utensils: including Pots, Pans, Cooker (3 or 5 lit. only, ISI marked)
Clothes: Wearable Sarees,Blouse & Petticoats,Nighties, New under garments, Lungi/Dhoti Childrens' clothing, Bed sheets, Blankets & Towels, Slippers and Footwears
Toiletries: Tooth Brush, Toothpaste, Soap, Sanitary Pads, Bucket & Mug, Washing Soap/ Powder, Antiseptic Liquid, Floor Cleaning Liquid
Essentials: Tarpaulins & Ropes, Mosquito Nets, Solar Lights, Torches and Pencil Batteries, Working mobile with charger
Miscellaneous: Pain relievers, Mosquito repellants, Lighter/Matches, Candles, Scissors, Gloves, Masks, Umbrella/Raincoat, Sleeping Mat, Water purifying tablets, General Medicines
For sending material, click here for – Goonj's offices.. I Goonj's Dropping Centres..
ALSO,
Organize collection camps in schools, colleges, offices and residential areas.
Connect us with people who can send material in bulk.
Run payroll contribution campaign in your work place
Reach out to your friends, colleagues and relatives
Write back to mail@goonj.org or call 011- 41401216 / 011-26972351. We will be updating the status on www.goonj.org and on our face book http://www.facebook.com/goonj.org regularly.
0
Disaster affected families reached
0
Relief & Rehabilitation Kits reached
Our Values

To recognize and value the potential of local resource and traditional wisdom of people.

To focus on the receiver's dignity instead of the donor's pride.

To promote circular economy by ensuring maximum use of each material.

To collaborate with partner organizations to increase effectiveness and scale.

To view every entity as equal stakeholder in the process of development rather than observing hierarchical relationships.

In the race of development we all are too focused on machines i.e. the big, known issues, ignoring the needles- the most important basic needs.