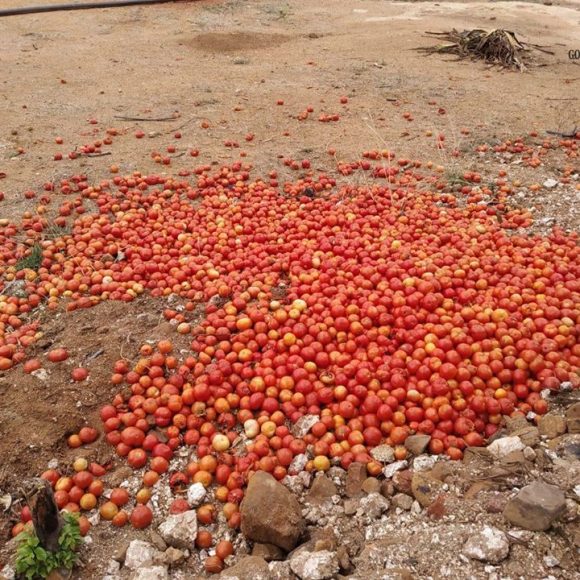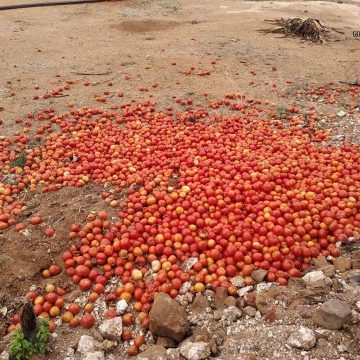 Responding to tomato farmers' desperation in Karnataka:
Goonj is buying tomatoes in bulk directly from the farmers of Kolar, adding these and other vegetables to our ration kits in the region. WHY? Kolar in Karnataka is popularly called the "Golden Land" of India – for its mine fields and also for horticultural crops like tomatoes, yielding 4 lakh tons every year. This time of the year tomatoes are supplied all across India and internationally, giving farmers a handsome return of 5 lakh on investment of 1 lakh per acre, just in 3-4 months. This sustains the farmers for the rest of the year.
Due to the lockdown, 90% of tomatoes couldn't be dispatched, forcing people to sell at extremely reduced prices. As the desperation grew, many even threw away their produce. Now people have more variety and nutrition in their food and the farmers have money in their hands.. also minimizing logistics.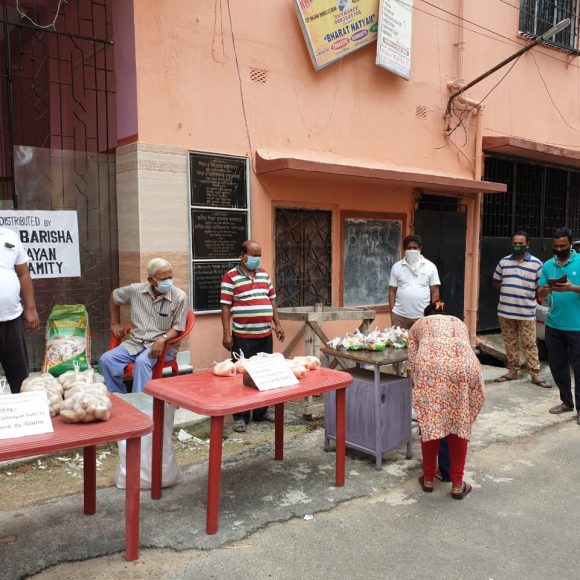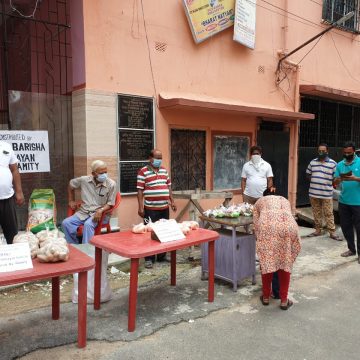 An indigenous community…immigrants even after a decade
In Bengal, Goonj stands with the backward, differently-abled, migrant laborers and landless families of the indigenous community of Tot in Alipurduar district, originally from Assam, who had farmland and resources back home, they had to leave everything behind and flee their homeland as a result of ethnic unrest. Even after a decade the families here don't have voter or ration cards, thus, are deprived of government facilities. Moreover, with lockdown, and no access to food and with no money at their disposal, they were struggling to make ends meet.
This is where Goonj stepped in. We are working for indigenous communities across India for their sustenance and livelihood.

Multiple approaches to revitalise rural Bengal
Bengal is emerging as one of our biggest hub of initiatives in rural India. While in north Bengal our teams are reaching out to farmers to purchase potatoes in bulk and including these in our local ration kits, in Sunderbans, where our teams had earlier (before the lockdown) worked with the communities to plant kitchen gardens, they are now growing and selling back fresh vegetables to us, which are being added to our local ration kits.
Similarly, we have mobilized and supported a community making bamboo baskets, while in Alipore, tribals are engaged in face mask making work.
In Kolkata,and also in North Bengal, we are engaging small-time tailors to make face masks for our relief kits but the best story is of a bitter-gourd (karela) growing farmer, who contributed all his produce to Goonj, as a token of help.

Women and children in red light areas…struggling for the basics
Goonj is with two organizations working with women and children in red light areas. Prerana is one such, supporting the women and children of Kamatipura and Falkland Road red light areas, one of the biggest red light areas in Mumbai.
The lockdown has severely affected the lives of the people living here. Since there is no income, the situation of the women and children is even worse than usual.
Similar situation is in Bhiwandi red light area, which falls in Thane district. We have partnered with Shree Sai Sewa Sanstha here to reach ration and basic essential items to these areas.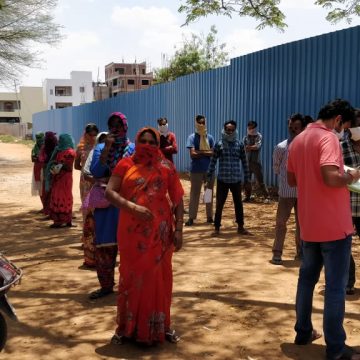 Differently-abled children and people with mental-illness…fighting loneliness & despair
Under the care of Garden Reach Institute for the Rehabilitation and Research, Kolkata, live differently-abled children whose parents work as daily wagers.Due to the lockdown, these parents are without work and money, thus no food.
Goonj stepped in and provided ration for their support. Similarly, Sarbari Home – a facility providing mental healthcare to homeless persons with psycho-social disabilities – secured food materials from Goonj for the shelter home, filling the food scarcity gap.
We also stand by them to fulfill their other essential needs.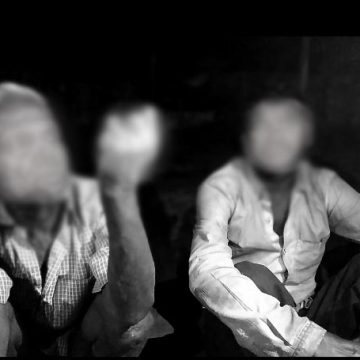 Lepers' Colony in Bihar…fighting ostracization & hunger
"Mangney ko nikalte hai chowk par, bazaar par, gaon mein, magar maar ke nikal detey hai (We go out to beg in the markets and villages, but stones are thrown at us)."
This story highlights the unequal ways in which people have been hit by the lockdown and Covid pandemic. In Bihar's Marjadwa village (Mainatanr Block, West Champaran) – is a colony of 44 leprosy-stricken families – located away from the main social cluster, who largely sustained themselves with begging and rag-picking. Though they were socially banished even before the lockdown but now their condition has worsened. Now they are struggling even for the basic everyday food. "Pehele do-char rupaiyee mil jate thhey – ab wo bhi mushkil hai (We used to get a few rupees by begging but now even that is difficult)". More..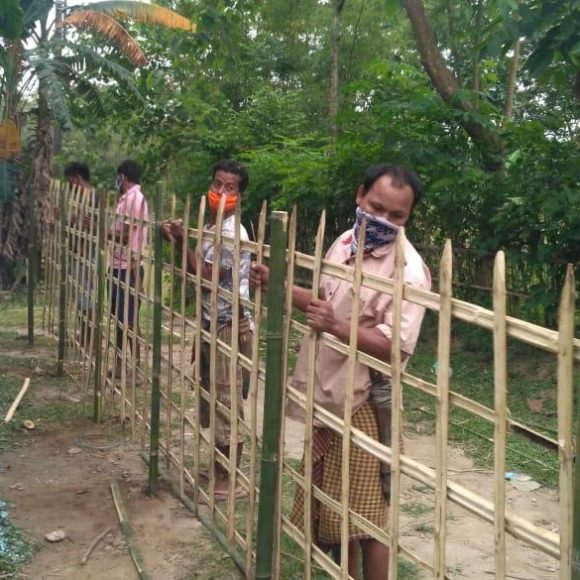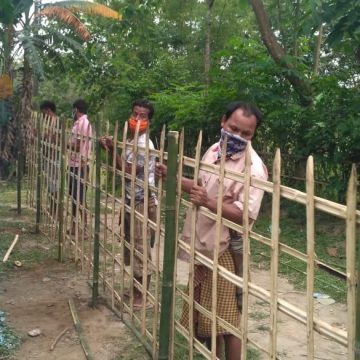 Connecting as we grow…
Jharkhand; Working in the East Singhbhum district iwhen our team mobilized the villagers of Kalajharna, they decided to work on making a bridge, to lessen their travel distance by about 4-6 km, between Panchadih and Barudih. Situated inside the forest area of Kherua GP, the village is home to around 300 people, who do small-scale farming and collection of forest products. Each of the participant families worked very hard to make the bridge, while also contributing sixty pieces of bamboo, twenty-five pieces of khutta (big wooden pole) and 3 kgs of screws towards the making of the bridge. Moreover, they also repaired a 1.5 km stretch of road that connected them to a main road. Goonj rewarded their efforts with Rahat Relief Kits.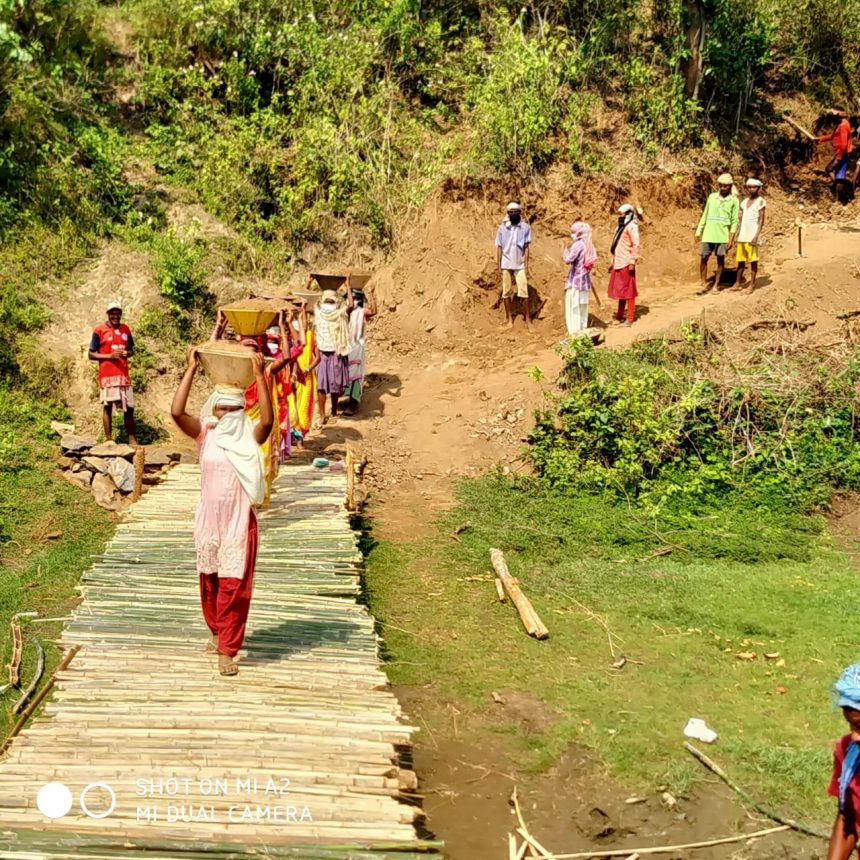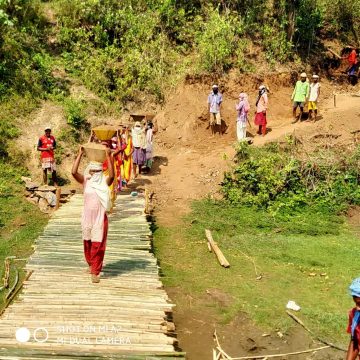 Building hopes…
The Anganwadi (ICDS center) of Foskadanga village in Alipurduar, West Bengal, has been in a state of neglect for a long time. Adjacent to a forest, cattle often roam into the center, making it unclean for children to study and play. When Goonj, along with its partner organization, mobilized and encouraged the villagers, they decided to revamp the structure, painting materials, making bamboo fence, repairing the connecting road with stones brought from the Paro River, planting trees and painting the building a bright blue. Goonj rewarded their efforts with toys and daris for the centre and ration kits for the families. Now children are happy to spend their time in the center while the villagers say that they will be planting more trees in the premises.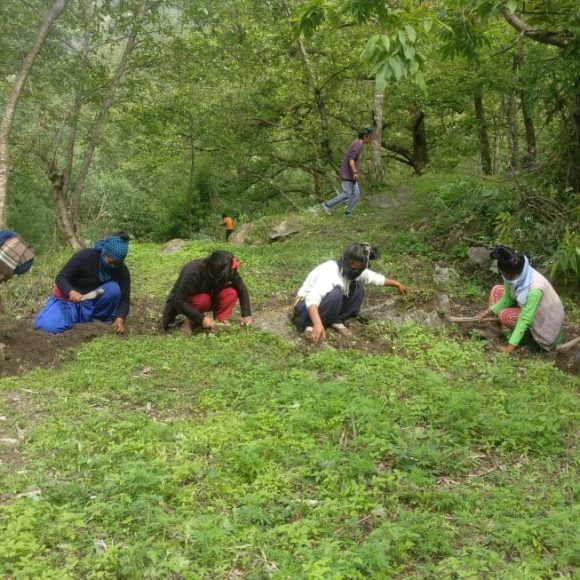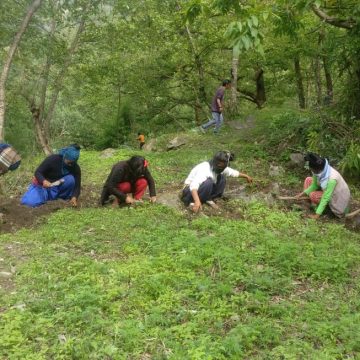 Growing Green..
A massive forestation drive is underway in the Watan village, Uttrakhand, to create a source of income-generation for the villagers of this hill state. Team Goonj is working closely with the people of this region to plant saplings, herbs, shrubs etc to convert it into a proper forest, using the Miyawaki technique that helps build dense, native forests. The approach ensures 10 times faster plant growth, resulting in 30 times denser plantation. Similar activity is soon going to start in seven other villages in this region.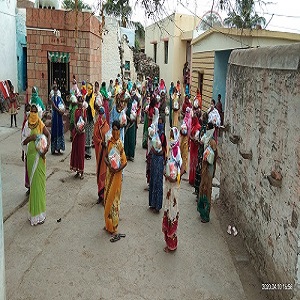 Devadasis in Karnataka…fighting isolation & desperation
In an effort to tackle the negative impact of the lockdown, Goonj activated its pan-India network to reach out to the most neglected communities in need. The Devadasis in Mudhol (Bagalkot) in north Karnataka is one such. Mudhol is one of the several districts where there is a rampant prevalence of Devadasi tradition, a system of institutionalized prostitution which "dedicates" women/adolescent girls to a life of sex work in the name of religion, caste and tradition. Our local team, with our partner organizations, identified women in a few villages, assessed their basic needs and reached out ration kits comprising dal, rice, cooking oil, wheat flour and other essentials to devadasi women across villages.Without work, most of them are dependent on somebody else for sustenance, and are relegated to the drought-prone villages with sparse economic opportunities. Moreover, despite various Protection Acts, thousands of Dalit women are continued to be forced into it.
We are working with sex workers in Delhi, Kolkata, Mumbai and other areas across India, to support their sustenance, livelihood and dignity.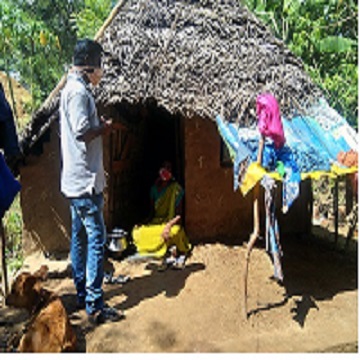 Lacking food, but not resilience..
Our Tamil Nadu team first met Vijaya in Cuddalore district when they reached out relief to a family living on just rice and salt. Like most in her village, Vijaya too works as a casual farming laborer on someone else's land. To make ends meet, she also ran a small tiffin stall which brought her a decent earning. But the lockdown changed everything. The stall is shut, and finding employment in the fields during this crisis has become even more difficult. Our local team ensured she received ration and other necessary materials needed to tackle the situation. Although most people like Vijaya, living in the villages, depend on agriculture, but the majority doesn't own land…thus end up working for meager wages. Having lost all means of livelihood, Vijaya and her family are finding it hard to keep their kitchen stove burning. She accepted the materials we got, with joy and assured us that she will fight on. Our target is to honor her dignity by engaging her – and others like her in the villages – in our 'Work For Dignity' initiative. Vijaya is one of the many with whom we need to stand and support in these troubled times.