"Volunteers don't necessarily have time, but they have heart. As Volunteer, you will learn not just more about the needs of others, you will also learn more about your own needs and you will discover that in helping other, you help yourself most of all.
A Volunteer can be anybody. There is no age limit to begin a volunteer, no preferred categories, no salary specification, no special degree or work experience. All that is required is a dedication to the cause, sincerity about the work that one in doing and commitment to a regular and sustained efforts with the organisation." 
– MAHATAMA GANDHI
Goonj is only a medium to connect you to some hardcore realities of this country. Visit our nearest Goonj Office cum Processing Center to better understand the work.
Volunteering in different ways
With Your Network
Talk to 10: Beyond money and material, spread the word around in your own network of friends, family and colleagues to get more people to take some positive action. It could be about sponsoring Goonj Kits, Payroll Giving with a corporate, spreading the word about Goonj Ki Gullak, connecting to wholesalers and retail chains for unsold material/dead inventory or connecting with transporters for pro bono/ subsidized services.
Going Green
Green by Goonj is our range of up-cycled products made from last shreds of cloth. You can promote these products for conferences, workshops, camps, etc. or connect us to organizations that promote sustainable lifestyle products or organize stalls in various corporate, schools, colleges, exhibitions etc. To visit our ecommerce site, click here.
100 Stories of Change Book
'100 Stories of Change Vol I' is a collection of first 25 stories of change By Goonj. You can organize book reading sessions in colleges, universities, societies. Connect us to research and academic institutes where the book can be placed for people studying social work, social entrepreneurship etc..
Working with children
Goonj's 'School to School' initiative engages with urban schools, kids, teachers & parents. You can reach out to schools to organize sessions, stalls, exposure visits and collection drives for Goonj.
Short supply of School material is a constant challenge at Goonj. Pitch in by organizing school material specific collection drives or connect us to stationery manufacturers.
Raise Your Hand for Women's Dignity and Menstruation
If you are passionate about breaking the culture of shame and silence around menstruation, get involved in this work with us. https://goonj.org/njpc/
Organizing Awareness Cum Collection Camps
Wherever you are, you can organize a collection camp for Goonj, in your city and drop collected material to the nearest Goonj office.
Please read our Guidelines carefully  – in English, in Hindi
If you wish to organize a Collection Camp,  pl register here
For Book Lovers
A lot of people contribute their books to Goonj.. The one's relevant for rural India are reached out to rural libraries, schools etc. while others are reached out at reasonable prices to urban masses through  stalls at book fairs, college fests, PTAs in schools, etc.
Living Abroad
Actively spread awareness through forums and speaker opportunities.
Connect Goonj with your India network.
Make a regular Monetary Donation and motivate others.
Become a part of Goonj's Team 5000  with committed Giving.
Skills to share
Want to volunteer with IT, Corel draw, Photoshop, writing, videography, translation etc.
You are requested to Register for Volunteering
We have introduced a new form to capture Contact details and interest areas for volunteering. You are requested to please refer to the steps mentioned below to complete the form… here is the Form link.
Step-1
If you are an existing contact with Goonj
Enter either the email or the phone number.
Press 'Search' to move to next screen.
An OTP will be sent to your registered number, pl put that and you would be taken to Step-2
If you are new to Goonj or your information does not exist press 'New' to goto step-3.
Step-2
To make any changes, click at 'Edit' to update your details. Make changes.
For Volunteering, pl ensure to respond 'Yes' to the question 'Wish to Volunteer'. This will open up other relevant questions for Volunteering.
Save
Screen -3
Enter your details.
For Volunteering, pl ensure to respond 'Yes' to the question 'Wish to Volunteer'. This will open up other relevant questions for Volunteering.
Save
Disclaimer
Volunteers usually don't get a certificate at Goonj because we believe Volunteering is about doing something selflessly. While we value your time and efforts, certificates are only issued for internship which is for 1 month at least and involves working full time with the team.
Please note that contributing your surplus material is not volunteering.  If you are from a corporate/school/college/institution and want to involve your team in volunteering for Goonj, Please  write to [email protected]
Interning at Goonj is fun if you want to explore and take yourself out of your comfort zone. Learning and absorbing will off course be a part of the process but we want you to take back something for a lifetime. At Goonj things are quite focused and goal oriented but we take our mantra of 'Masti mey kaam and kaam mey Masti' very seriously!!. If you have an open mind, doer attitude and tons of excitement to experiment, this is the place for you..  Some days maybe mundane or repetitive but Think about it this way.. 'Behind every beautiful garden there are gardeners who are constantly at work, getting their hands dirty." Goonj is known pan India and worldwide because of its attention to minute details so that the last person's dignity is nurtured. Your activity, however mundane, adds value to what is reached out with dignity to the last person. How is that for meaningful work?
Applying for Internship 
Internship opportunities are offered at Goonj's Delhi, Bangalore, Hyderabad, Chennai, Kochi, Kolkata, Rishikesh, Mumbai and Patna office. Owing to the Covid situation we are currently running virtual internships as well.
Selection process
There is no good or bad time to apply but there is a selection process.  One must apply atleast 1 month before the start of their internship.
Write to us on [email protected] expressing clearly "Why Goonj" with your resume, duration (dates) and preferred location for your internship.
Our three phased selection Process:
You will be asked to answer 3 key questions in the first round. (P.S: Copy pasted text is easy to recognize..)

For the second round, selected applicants will be invited to an informal meeting at our Delhi Office

. If one can't make it for some reason we can connect on  a video or a phone call.

Shortlisted applicants from the second round will be asked to share a task and an action plan to take up during your internship.
Internship duration
Minimum duration for internship at Goonj is one month, which can further be extended depending on various factors.
Interns from abroad
Applying from abroad? Do ensure all necessary documentation, approvals and visa formalities are in place before applying to Goonj. Please share your documents and permissions to initiate the process at Goonj.
Stipend
No stipend is paid for internship at Goonj.
Accommodation
Happy to help with arranging accommodation and other aspects but given our limited resources, are unable to offer accommodation and other stay related arrangements.
Working Hours
You will be working in close co-ordination with Team Goonj. We work Monday – Saturday (10am to 5pm) and expect the intern to follow the same timings.
Work from Home
The idea is to give you maximum exposure to our work environment therefore 'Work-from- home' is not encouraged. However, we are running virtual internships due to the current Covid situation.
Tasks/Curriculum
For pro-active, multi-lingual and willing to learn Interns, the sky is the limit.. If you know any specific skill or you have a specific interest/wish list, do let us know. Our priority is to ensure that you get to explore your skills and strengths by working on different aspects of our processes.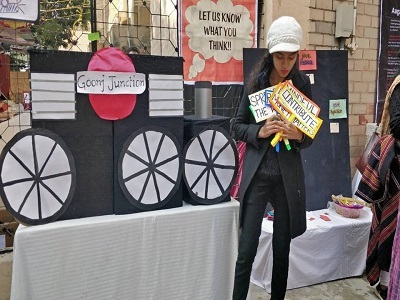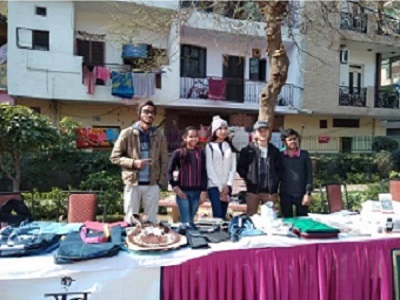 We engage interns in multiple tasks around our rural & urban initiatives including collection, processing and implementation aspects to give them a holistic picture of Goonj's work. We try to identify their interests and engage them in different domains to enhance their skills and expertise for their overall development and help them get a larger outlook on the development sector.
At the end of the day how much you learn from your stint at Goonj is up to you.
To know more about Goonj visit www.goonj.org or our social media channels – facebook page, twitter handle, Youtube channel, instagram. You can also visit our nearest Office cum  Processing Center.