Odha Do Zindagi (ODZ) – Annual Winter Campaign
Every year in winter, people die of cold; homeless people, migrant laborers and people living in far flung hilly terrain villages of India are the worst affected. Between 2002 and 2012, as many as 10,740 people died from exposure to cold and avalanche. That means on an average over 800 people suffered every year. "44 fresh deaths in first week of 2018" have already been documented in 2018 according to an India Today Magazine article.
For two decades now, Goonj has been highlighting winters as an ignored disaster for the people who have little. We strongly believe that it's not the cold but lack of clothing that kills people. That makes winters an avoidable and preventable disaster.
Our annual winter campaign Odha Do Zindagi urges urban masses to contribute winter clothing or monetary contribution for the same, for people who have little to brave through harsh winters. Last year, Goonj reached Winter Kits comprising basic essentials like woolens, coats, shoes, mufflers, blankets, Sujnis to people of Guptakashi in Uttarakhand, covering over 100 villages.
You too can do your bit this time!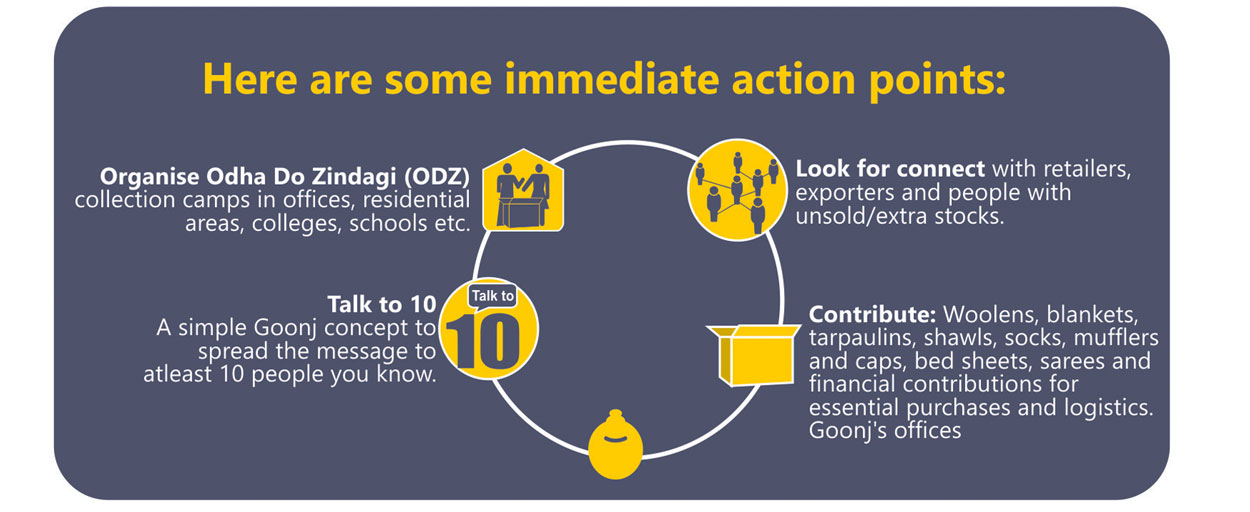 Time to join our annual winter Campaign..