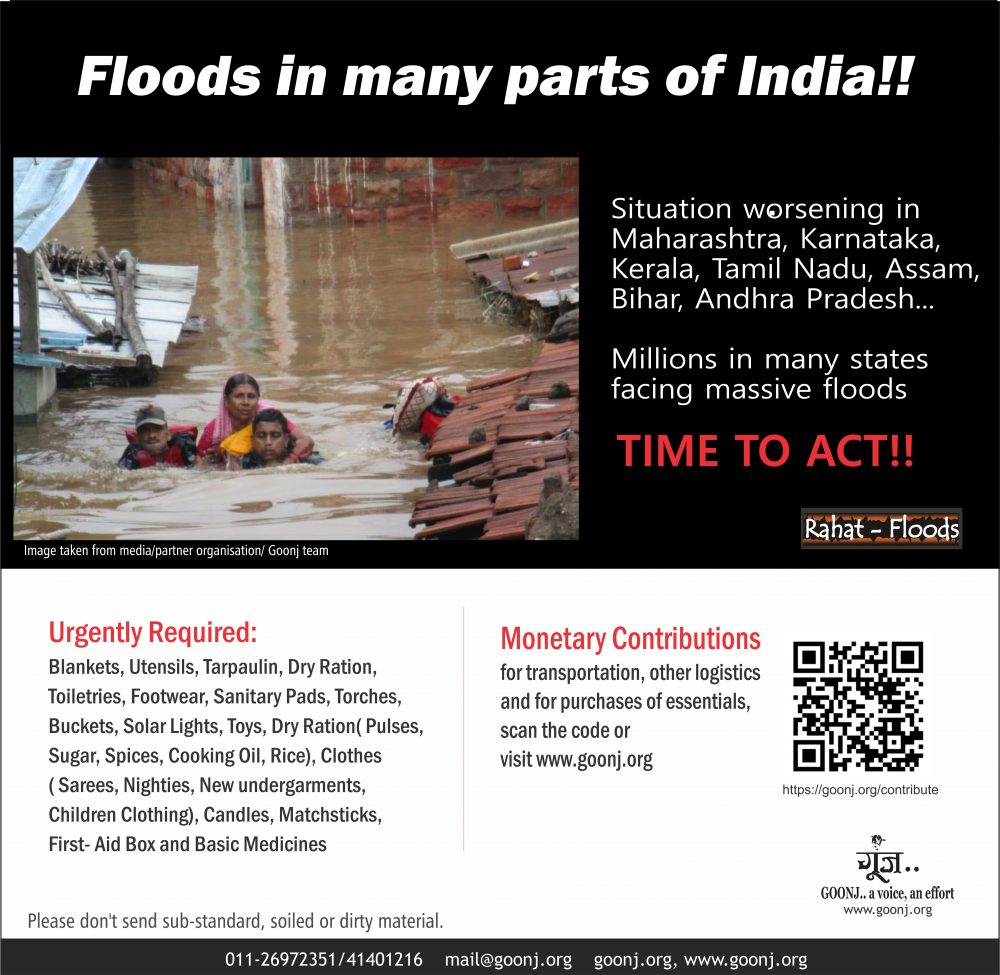 Appeal
Millions of people in many states including Maharashtra, Kerala, Karnataka, Tamil Nadu, Assam, Bihar and Andhra Pradesh are facing massive floods as we write this note. The situation is worsening and spreading to other states as well. Here are some media reports as on August 9th Karnataka-44000 people displaced, Kerala-10000 evacuated, Maharashtra-over 2.5 lakh evacuated. You are needed too!
Monetary Contributions
Critical for logistics and essential purchases.
(All monetary contributions are tax exempted u/s 80G)
OR
Send to GOONJ, J-93, Sarita Vihar, New Delhi-110076 with your full name, address and tel no. for receipt purpose.
Urgently Needed Materials
Food Items: Rice (Non-Basmati), Pulses, Mustard Oil, Poha, Sugar, Tea, Biscuits and Spices
Utensils: including Pots, Pans, Cooker (3 or 5 lit. only, ISI marked)
Clothes: Wearable Sarees,Blouse & Petticoats,Nighties, New under garments, Lungi/Dhoti Childrens' clothing, Bed sheets, Blankets & Towels, Slippers and Footwears
Toiletries: Tooth Brush, Toothpaste, Soap, Sanitary Pads, Bucket & Mug, Washing Soap/ Powder, Antiseptic Liquid, Floor Cleaning Liquid
Essentials: Tarpaulins & Ropes, Mosquito Nets, Solar Lights, Torches and Pencil Batteries, Working mobile with charger
Miscellaneous: Pain relievers, Mosquito repellants, Lighter/Matches, Candles, Scissors, Gloves, Masks, Umbrella/Raincoat, Sleeping Mat, Water purifying tablets, General Medicines
For Material Contribution
Media Reports
In Assam, Floods have submerged 30 districts while 12 districts are facing severe deluge in Bihar.
Updates from the field
Bihar: Large scale devastation has been reported from Araria, Sheohar, East Champaran, Purnea, Darbhanga and Kishanganj districts.
pix by Team Goonj
While in Assam massive erosion has been witnessed in Sonitpur, Golaghat, Jorhat, Baksa, Dibrugarh, Nalbari, Hojai, Morigaon, Lakhimpur, Darrang, Nagaon, Kamrup, Barpeta, Dhubri, Majuli, Karimganj, Sivasagar, Hailakandi and South Salmara.
pix by Team Goonj
Goonj's relief Material Kits reaching the worst flood affected parts of Assam and Bihar
pix by Team Goonj