Periyar Valley, located in the Idukki district of Kerala, is a region surrounded by hills and the Periyar river. It was here that one of our team members happened to come across Aneesh Krishnan, Sudheesh V Suresh, Sebastian Babu and Jishnu Murali, a group of youngsters whose work came to a standstill with the lockdown.
Aneesh was a daily wage construction laborer and the only earning member of his family, while 19-year-old Sudheesh dropped out of college to earn a living to help his aged father, who was single-handedly supporting the family. In the case of Sebastian, his father was the sole breadwinner of his family of five and undertook MGNREGA work alongside small-scale farming activities. Jishnu, on the other hand, worked as a workshop mechanic in Murikkassery, an adjacent town to Periyar Valley.
Coming to know about their situation, our team member motivated the four to start bitter gourd farming under Goonj's 'Vaapsi' initiative. While Goonj supported them with saplings, metal wires and ropes, costs on fertilizers and pesticides were borne by the group. Their hard work has yielded so much fruit that they now market the vegetables in the grocery shops of Murikkassery and Thopramukadi (nearby towns). Today, these men stand a living testimony to how a small group of four came together to find a secondary livelihood in the harsh terrains of Idukki even in the midst of complete shutdown of normal life. Through their meticulous efforts, they were not only able to fulfill the financial needs of their families, but were also able to become one of the pioneers in their region to promote community farming among others, especially among people of their generation.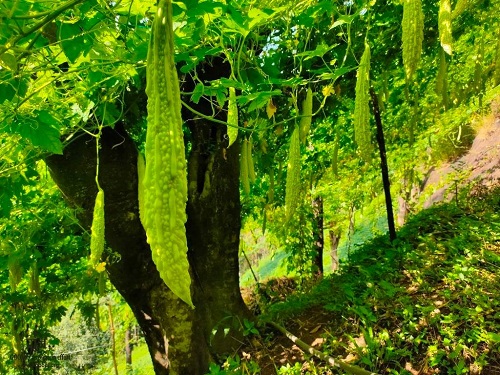 Storyteller: Anoop TK