Objective 
Often great work is a combination of the heart, the head, and the hands. While the complex theories of change and the detailed development matrix's often delve into the head and the hands part of working in the development space, it's our hearts which connect us back to the humanity of why we do, what we do. 'Junoon', a Hindi word for Passion, is at the heart of Junoon Awards.. We are looking for organizations who lead with their heart with a consistent zeal and passion. People who show exemplary courage and take risks to stay the course with what they strongly believe in, in the face of tremendous personal and organizational adversity, for the larger good. In summary, Junoon awards are the equivalent of the bravery awards in the world. Just that in development work, bravery emerges in different ways, goes unnoticed many times and deserves to be applauded often. We are instituting this award to recognize the unrelenting passion and resilience of people doing development work against many odds. We want to honor the efforts in the past few years towards the wellbeing of the people of this country. We hope these stories keep inspiring each one of us to never lose our light and passion.. for what we believe in..
Heartiest Congratulations !!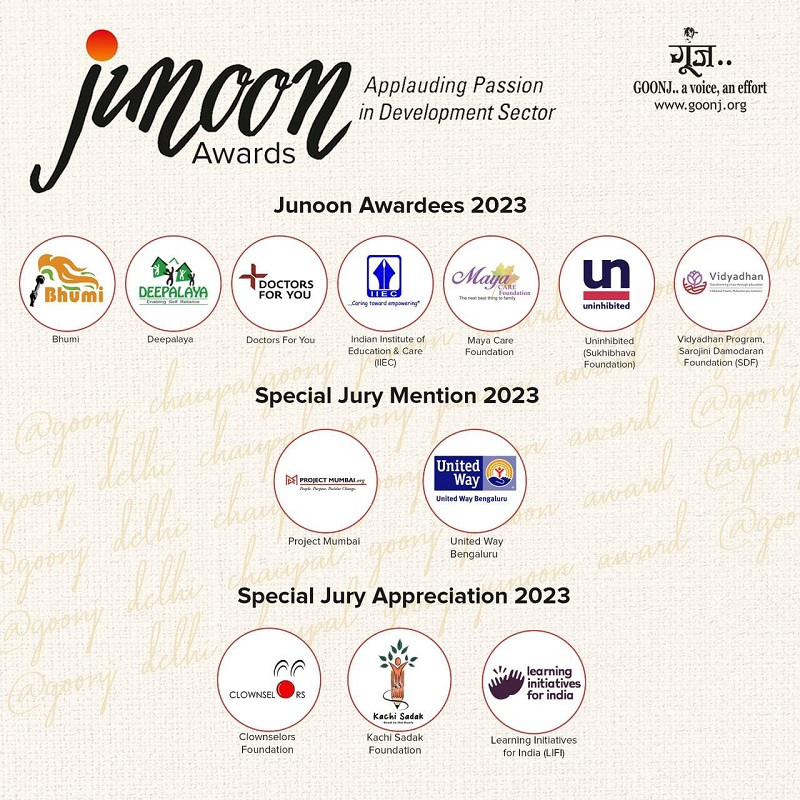 Applications for Junoon Awards 2024 to open soon!
To receive an update once the application form is out, kindly fill out this form