Daan Utsav

(earlier known as Joy of Giving Week)
(2nd-8th October 2021)
A time to give back..
 As we move forward through these tough times,  let us keep in mind that there are many children, and people from the Missed-out Communities*, amongst others who have been having a tough-time throughout the pandemic.
Two years on, as urban children attend classes online, the rural children may not recollect what their classrooms look like, or remember how to read and write. Still, traditional textbooks, notebooks, pencils are their key resources for learning. Likewise the Missed-out who already are on the edge of society have been further pushed out and are struggling to survive.
As we try to forget the ongoing covid crisis we must never forget our values, and core of humanity- standing with people.
Goonj invites you to stand with these communities!!
Like every year, we are nearing the festival season and it starts with our own festival of Giving during
'Daan Utsav' (earlier known as Joy of Giving Week) 
'Dil Ki Suno, Kuch Karo' (Listen to your heart, Do Something)
is Goonj's call to You in this festival of Giving
We are there.. Need you too..
*(sex workers, transgenders, differently-abled, HIV+ people, leprosy afflicted, etc)
Urgently required material: All kinds of clothes, especially sarees, woollens, footwear, toys, books, stationery, cooking utensils, hosiery materials/cotton cloth (for making sanitary pads) and other household essentials.  
Specific material needs from the community: Bedsheets, curtains, make-up materials, bangles, artificial jewelry (for bridal kits), mattress, single cots, spectacles, wheelchair and walking sticks, cotton roll, disinfectant liquid, soaps, tarpaulin camera, phones, lactogen, ragi.
Get involved with Material and Money Contribution
Collection Camps/Drives and our Offices
(Delhi, UP, Haryana, Punjab, HP, Rajasthan, Uttarakhand)
(Tamil Nadu, Telangana, Karnataka, Kerala)
Build Connections
COVID has taken away jobs and with it, financial security, but severely affected education is not far behind. When millions of people are in deep financial distress, especially in rural areas, buying an electronic gadget for their children's digital learning is the last thing on their mind. And for students from the underprivileged sections of the society, getting a smartphone or computer is far from reality.
This is where we can make a difference in their lives, and bridge the digital divide…
While we build up this campaign, we believe understanding the issue and its nuances is critical.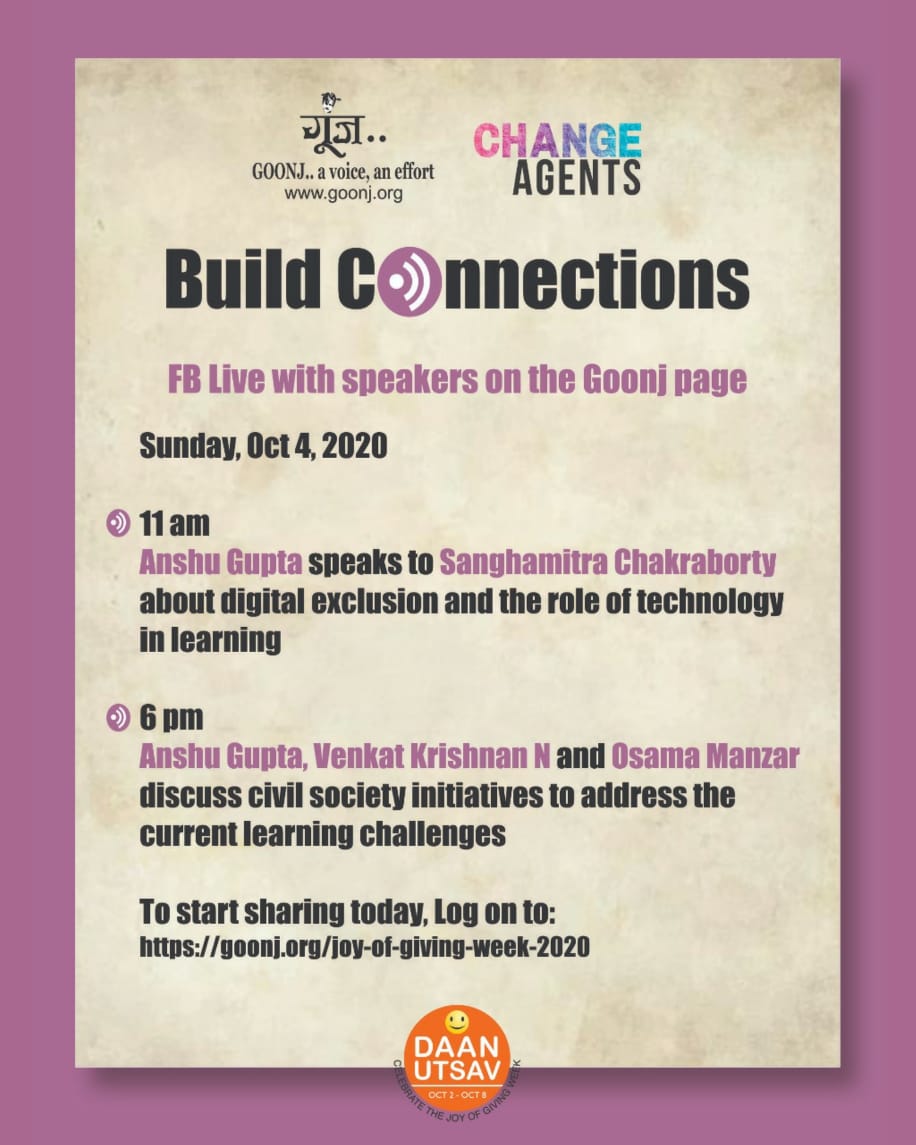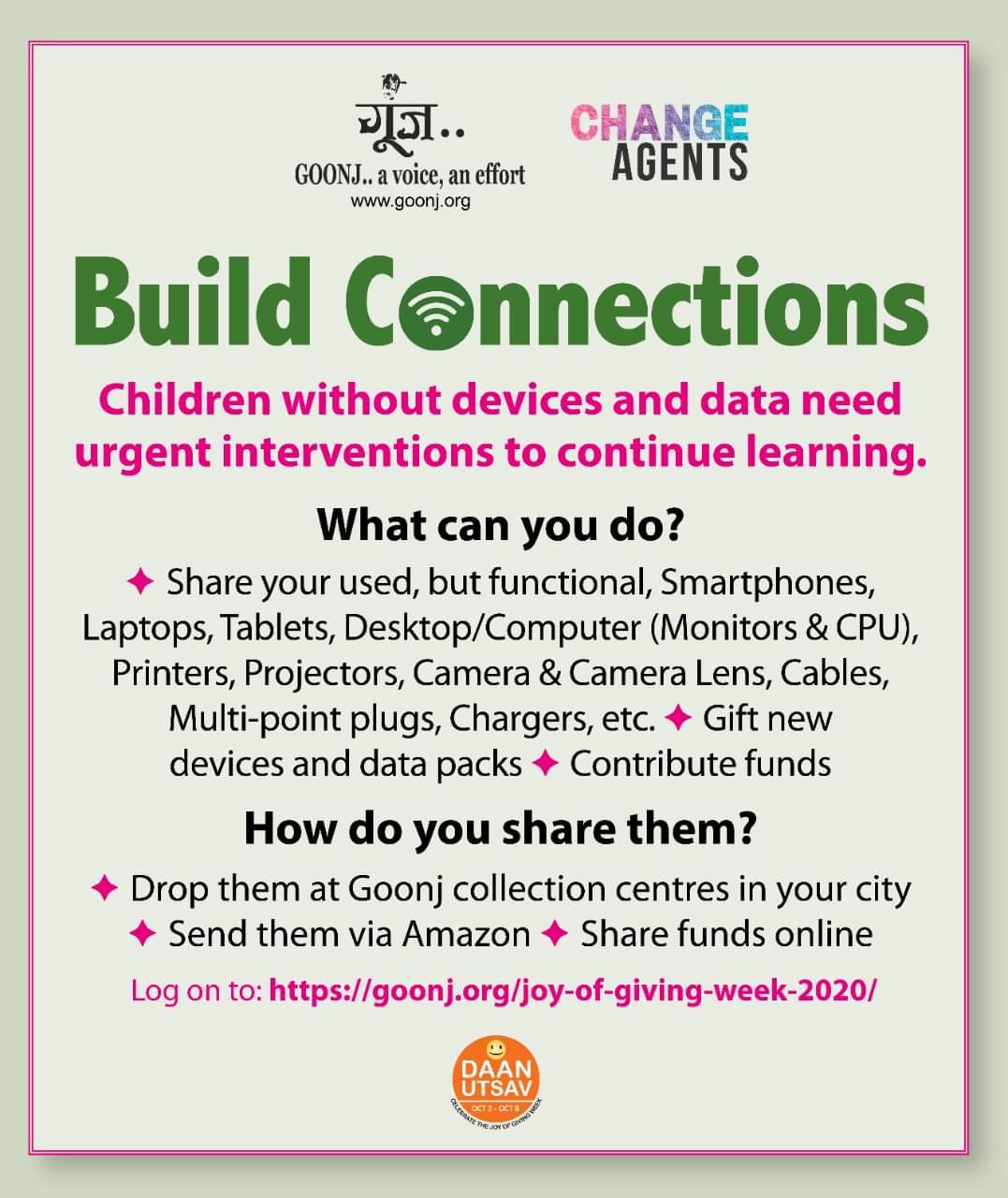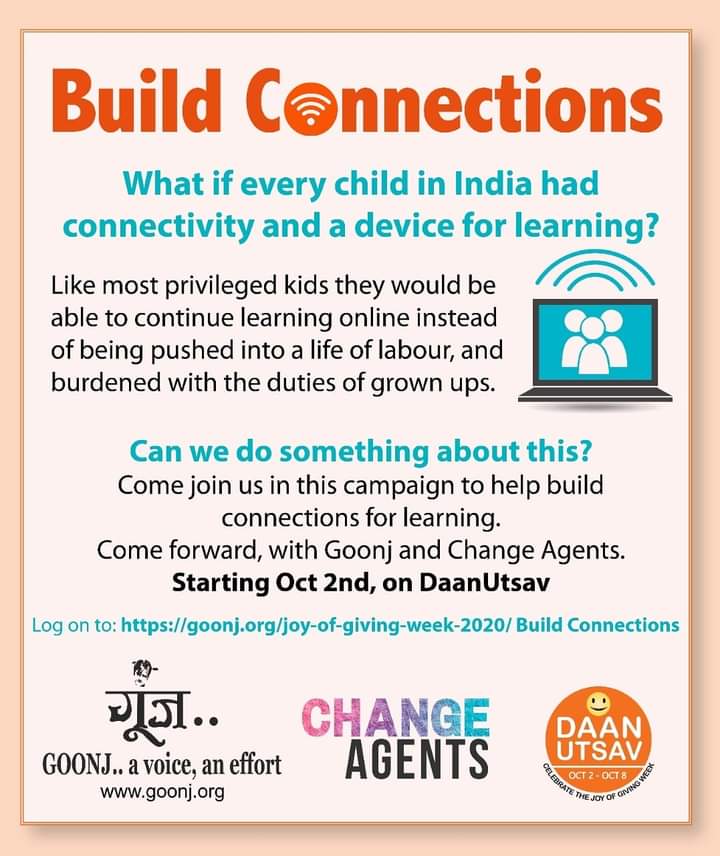 Contribute at your nearest Collection Camp
How to participate 
Organise Collection drives/Camps
These collection drives will be held in residential areas, educational institutions, offices and other such establishments. If you are based in any of the above cities, you too can organise collection camps/drives. Below are a few ways to organise the collection drives.These will mandatorily follow the national health guidelines. Along with it, there are a few guidelines by Goonj, kindly go through the same here-https://cutt.ly/OWO06Jr ; 
Understanding all the guidelines beforehand is important to avoid any inconvenience later.
 Public Collection Drives:  Allot a secured and a covered space as a venue for material collection, finalise the dates, get the posters from us to spread the word, organise collections for a week's time.
 One day Collection camp: Allot a day where a truck can be parked inside/in front of your society gate for a few hours, spread the word and get people to contribute to the vehicle directly..
'Initiate on your own' collections: If you are based in one of the selected cities and can collect at least 1500 kg material (1 bolero load) from your friends, family, neighbours etc, Goonj will organise pick up from your society between 10th – 30th Oct; Please note, pick up is not meant for individual homes.
Starting  2nd October 2021, Goonj Volunteers will organize collection drives in 31 cities across India – Ahmedabad, Bangalore, Chennai, Dehradun, Delhi, Faridabad, Ghaziabad, Goa, Gurgaon, Hyderabad, Indore, Jaipur, Jalandhar, Kochi, Kolkata, Lucknow, Ludhiana, Meerut, Mumbai, Nagpur, Nasik, Noida, Pune, Rishikesh, Shimla, Solan, Surat, Thane, Vadodara, Haldwani, Navi Mumbai. 
Along with material, money matters..
Gear Monetary support for our Pan India work 
Below are few fundraising options, if any of these ideas makes sense to you, do get in touch with us on [email protected]
Gear Monetary support for our Pan India work 
Along with material, money matters.. Below are few fundraising options, if any of these ideas makes sense to you, do get in touch with us on [email protected]  
Organise creative fundraising activities by identifying your strengths and sharing that with the larger community through online sessions (some examples – photography sessions, cooking classes, mental health sessions etc.)

Promote Goonj's fundraising platforms and raise funds.

A collective fundraiser has been initiated by Goonj volunteers.. Do spread and contribute in the same : https://cutt.ly/bWO99I9
Goonj Ki Gullak

is an innovative idea for bringing change with the small change of the masses. Refer

https://goonj.org/goonj-ki-gullak/

for more details

Simply contribute to Goonj.. Refer

https://goonj.org/donate

for various ways to contribute
(Guidelines while contributing money/ monetary – it is mandatory to have full name, contact details, email id and address of the contributor else it will be treated as anonymous and will be subject to taxation (for cheque & cash both). For getting a monetary contribution receipt send the details to [email protected] 
Goonj's Virtual marathon is an engaging way to participate during this Daan Utsav: 'Run to Spread Joy', as we would like to call it, invites one and all to participate, run and multiply the joy of giving.
Last Date of registration: Oct 6th,2020
For any query, please refer to the FAQ
Give your time and spread joy!
Participate as a school
If you are a school, get your kids engaged in any of the below activities..
Organize collection camps in your school : Register here https://cutt.ly/2WOUzEo
Organize happiness box activity : Write to us at

[email protected]

, Team will get back to you with all the details
Gullaks : Take gullaks from Goonj or let your kids DIY one & inculcate the habit of saving this time for someone in need
Pledge a school kit : This Joy of giving let's pledge to bring a smile on our rural friend's faces by contributing new/ old usable school materials- school bag, bottle, lunch box, stationery, uniform etc. Drop the same at your nearest camp, dropping center, Goonj office or send by courier to the nearest center. Refer https://goonj.org/our-offices/
Join us as an independent group of people
Over a period of time many independent groups like welfare groups, women groups, Rotary Clubs, associations, volunteer groups, formed for specific purposes, have worked with Goonj in spreading awareness and collection of material. If you are a part of any such group and wish to participate, please register here https://cutt.ly/2WOUzEo
Get involved as an institution
Goonj has been working with different institutes – corporates, retail chains, schools, colleges, libraries, civil societies, coaching centres, arts and cultural centres, RWAs – for various campaigns and each one has taught us different ways people contribute, according to their interest and potential.
Material Collection Drives
They are an easy way for people to give back during Daan Utsav  (earlier known as Joy of Giving Week). You can focus on any specific material like clothes, school materials etc and people give back on their choice of material or make a monetary contribution for the same. To organize collection drives, please register here  https://cutt.ly/2WOUzEo
Apart from above, institutions can tie-up with Goonj for different aspects of
'Dil ki Suno, Kuch Karo' campaign
Logistics :

Be a logistics partner for Goonj to manage material pick-ups.

Co-branded campaigns/Checkout Giving :

Get your customers to contribute to the cause while visiting your stores/website.

 Pan-India outreach :

Spread the message on your platform and motivate people to contribute.

Space :

Allocate space in your offices, community halls, banquet halls, gyms etc. as public collection centers for a week. CSR projects with Goonj..

Payroll giving :

Sign up for payroll giving as an idea for employee engagement where you can contribute a school kit.

Institutional partnerships :

For institutional partnerships, on any of the above aspects, do write to

[email protected]
"Doing good is a collective responsibility.. because we all want to live in a better world." 
  — Anshu Gupta, Founder, Goonj