With systemic approach from relief to rehabilitation, every year Goonj works through its interventions in big and small disasters from cloud burst, floods, earthquakes, landslides, tsunami to human-made disasters like fire or highlighting disasters like winters.
Goonj's experience of the last 20 years of working in disasters has highlighted the fact that relief & rehabilitation go hand in hand. The approach and model has been successful in large scale disaster relief and rehabilitation for the last 2 decades of our work. The work hinges on 3 basic guiding principles.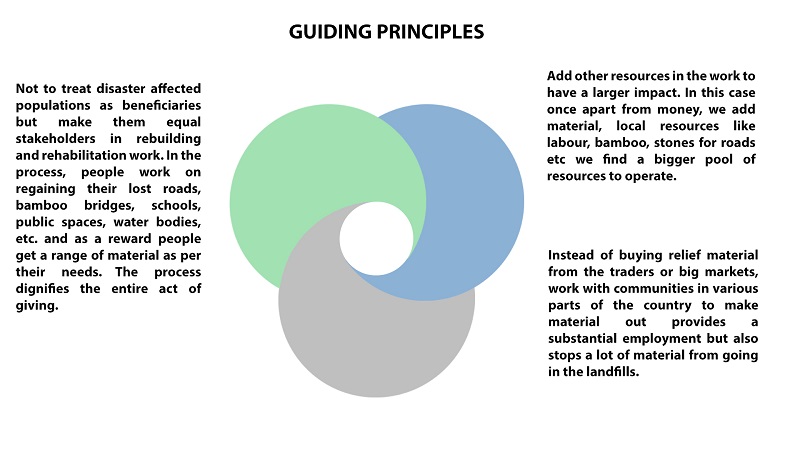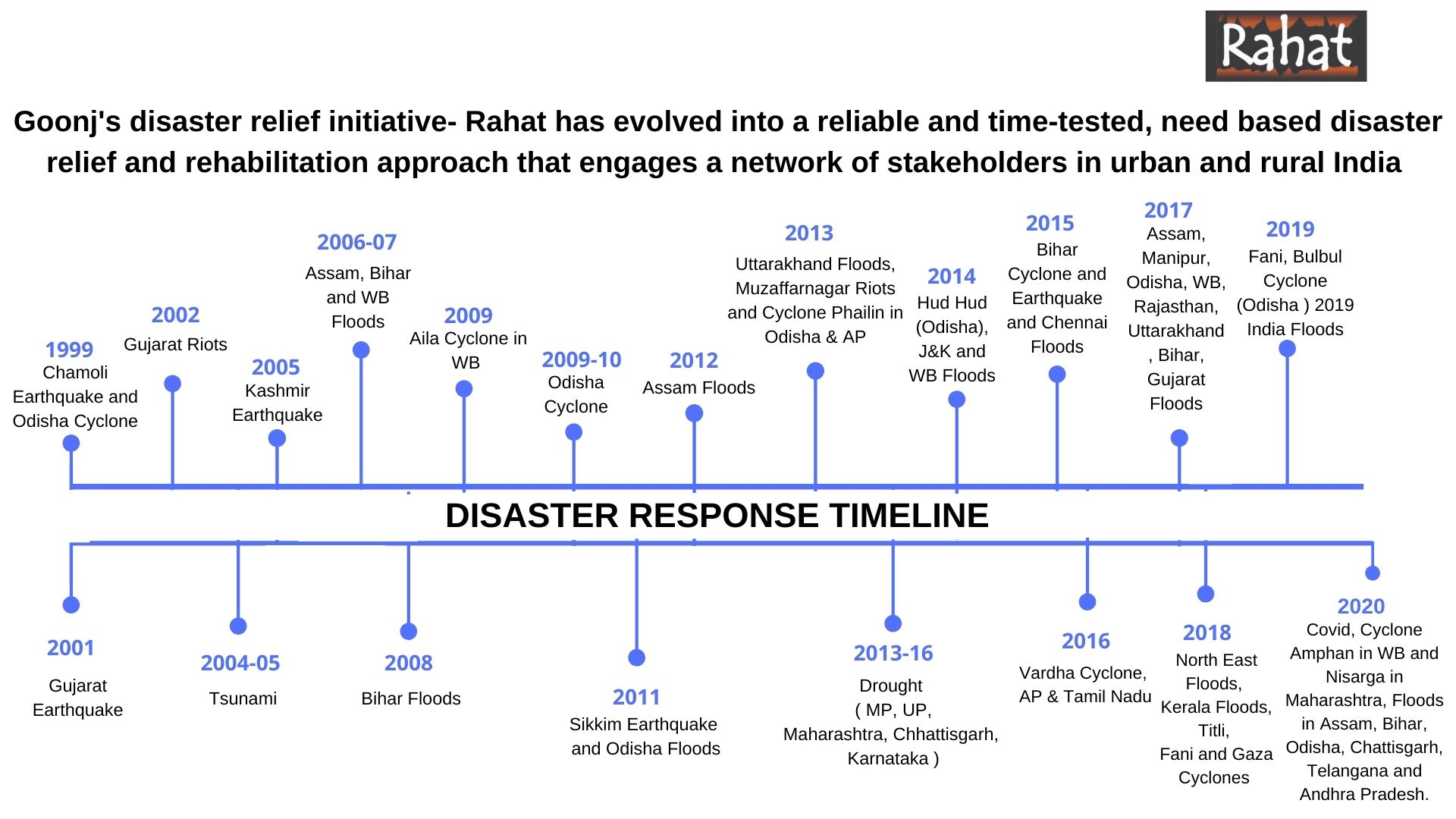 Goonj preparedness plans address not just the immediate response, but also the longer-term recovery and rehabilitation. Unlike many other organizations Goonj works on all kinds of disasters, and in the most difficult and unnoticed geographies. Effective local partners help set the stage for well-coordinated strategic field planning that both maximizes resources and enhances the extent of coverage.
Problem Statement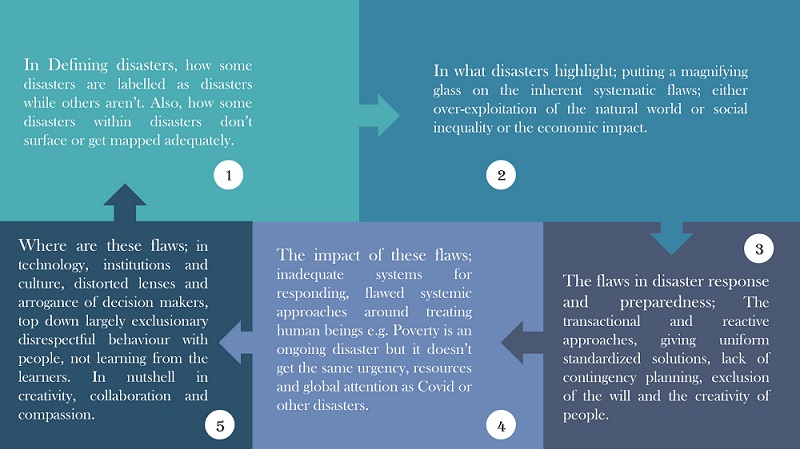 A proposed approach – description of the GARRD model which could be pursued based on:  

   
Increase the world's resilience i.e its ability to adapt incrementally with changes that disasters bring. Some Guiding principles for GARRD approach 
Improve before we change… like old drugs are being repurposed for covid, similarly learn from past disasters and from grassroots innovators and communities who consistently repurpose available solutions and tools to make them more effective.
Give voice, visibility and velocity to democratic assertion of local creativity, collaboration and compassion
Bring disasters and disaster response into the mindset of the society in non-disaster time.
Ensure rapid deployment of resources where they are most needed
Set in place a a process of constant learning and course correction (from disasters) on a systemic societal level
Ensuring that all policies on disasters are evolved from ground up through learning's from regional, grassroots community networks
Action Plan   

                                                                                                 
Immediate – Dialogue Organize a series of country level cohorts of key urban and rural stakeholders and actors, to bring disaster response and overall approach of GARRD into their mindset and seek their resource commitment to it.
Short term –

Deliberation – Work closely with an intermingled smaller group of key urban and rural leaders to arrive at a co-created and co-owned charter of this Alliance.
Organize workshops, exhibitions, brainstorming sessions to deep dive into creating simulated scenarios of deploying this alliance in the course of a disaster.
Action – Deploy this alliance's work in some well identified disasters like floods and forest fires.
Learning – deploy evaluation and research to fully capture the processes of this alliance, the learning's from its functioning and explore the impact of its work, to evolve an insights report to replicate this kind of Alliance regionally/globally.

Long term – Leveraging; Use the GARRD model to develop regional alliances and hubs in most disaster vulnerable regions like south asia with a set of common design principles.
Concrete Actions    

                                                           
Invite key country level grassroots communities, organizations, funders and other actors to come together to
listen, learn and leverage from each other for needs assessment and disaster contingency plan for the country.
Mobilize and motivate them to commit specific resources for disaster work, to mitigate and respond rapidly at the time of a disaster.
Link disaster response and preparedness to the SDG's, create a special societal global platform for the most neglected communities like children and youth, to comprehensively bring together all voices, issues and localized solutions.
GARRD will make a special allocation/ budgetary investment in creating, reviving, repairing and reimagining common places/ properties where people talk to each other.
GARRD will make investment in rural micro venture finance for goods and services for which markets don't still exist. Nurturing these local labs to experiment, support them with risk capital in large numbers for readiness for the next disaster.
Enablers of GARRD;funding agencies committed to long term systemic work on disasters, community based organizations, social entrepreneur organizations, expert agencies to calibrate and navigate the process of listening, learning and linking and also key corporates directly relevant to disaster response like logistics, transportation, relief work etc.
GARRD – cross cutting impact across several SDG's.
     

                                                                              
Unique Approaches
Goonj has looked at every disaster as an opportunity to bring attention and resources to address the ignored issues and needs of the most neglected disaster hit communities.
Our work has evolved into a reliable and time-tested, need based disaster relief & rehabilitation approach that engages a network of stakeholders in urban and rural India with a unique disaster Management Protocol that involves the masses across the country, sensitizing them for a rapid and better response to a disaster.
Goonj tackles mismatch between what's needed and what's contributed post disaster by engaging with urban masses and key stakeholders in non- disaster times on myths, realities, dignity and changing needs of disaster hit people.
Year round work with the masses and key stakeholders around breaking disaster related myths, sensitizing them to mindful giving through sessions, exhibitions etc. brings efficiency in operations and reduces wastage of precious resources.
In the initial few weeks post a disaster, our focus is on building collaborations with partners and stakeholders at local, regional, national and international level from different walks of life, for different things, to generate resources.
Filling Gaps in other agencies' disaster relief and rehabilitation efforts and resources thus minimizing duplication of efforts.
Our teams mobilise and motivate disaster hit communities normally considered victims, as powerful stakeholders, in repairing and restoring their own buildings, roads, bridges damaged in a disaster.
In the process our work helps build capacities and resilience of their communities.Creating Livelihood with Disaster wastage Goonj has been persistently working on disaster wastage for many years now after different disasters across Bihar, Tamil Nadu, Andhra Pradesh and Kerala. Many of Goonj's successful livelihood initiatives have evolved from our experiments with disaster wastage.